Golden Nips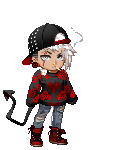 About

Taken by: Drugs. . -.
Name:Joshua
Age: 18
I'm an easy going guy for the most part, I just have a slight anger problem.
I'm an Otaku and gamer. Love them both with a passion!♥ (PS3 and now Xbox360) Want to add me on PSN or Xbox Live just message me, I play over 70 games. Anything else you want to know just ask.
My Birthday is July 24.
I'm a Leo.
And then stuff.
Friends
Viewing 12 of 122 friends
Journal
My Journal
I live in the carrbian i plan to tell u in this journal bout my life
Signature