Keeping busy
Hobbies/Interests
This is something a friend made me, I think it's incredibbly cute.




This something my best friend made, isn't she amazing?
Yes the background is my photography.
Or something I made.




And a cool pic from a cool guy.

Journal
The Word of God.
Just a place for random thoughts and a place to write down things in case anyone really wants to know.
God-the-almighty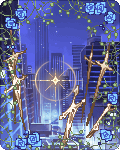 Last Login: 12/08/2016 11:11 am
Registered: 08/07/2005
Location: Planet Earth
Birthday: 01/24