God Sleeps On The Job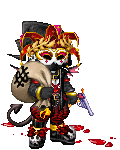 Details
Last Login

04/24/2014 3:24 pm

Total Posts

21988

Posts Per Day

9.47

Member Since

12/14/2007
Location

Connecticut

Gender

Male

Birthday

06/15/1990
---
Interests
Favorite Movies/Anime
Favorite TV Shows
Favorite Reads
Favorite Music/Bands
Hobbies/Interests
About

It's unfortunate really.

Some basics, I guess.

I was born in June of 1990. I was heavily into drugs at one point, now I barely touch them. I own a DDR machine. I live in a house with three other guys. I play a lot of Magic the Gathering, D&D, League of Legends, and various games on steam.

I'm working on my music sleeve on my left arm, and will start my gaming sleeve on my right arm eventually.

I want what everyone wants, to be happy.

I am constantly in the pursuit of happiness.

My past constantly catches up with me to try and prevent that happiness. Sometimes i let it drag me down, sometime I rise above it.
Journal
Ryan's Journal
This journal is rarely used.
Multimedia