Glaceyon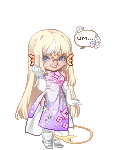 Details
Member Since

12/17/2006
---
Interests
About

Lacey

or

Glacey


⦁

25

years {12/12/1990} ♐
⦁Happily married to

Tim

{05/02/2015}.
⦁

I N F P

{

Healer

}
☽

Seleneophile

☾
⦁Dork │Princess │Cutie Pie │ Idol⦁
I ❤: anime,drawing,baking,singing.
I'm also the #1

Oppai Idol Princess

with sugary sass

F i n d M e
Tumblr
: glaceypuff
Instagram
: Glaceyon
Steam
: Laceypuff
Battlenet
: Glaceyon #1407
NintendoID
: Moonyko
PSN
: Moonydesu

G a m e s
I'm playing:
Overwatch
Tales of Zestiria
Dynasty Warriors 8
FFXIV: Glacey Puff//White Mage
Hyperdimension Neptunia
WoW:Makokoko//Bleeding Hollow//Priest
PokemonGO:Glaceyon//Mystic//19
I n t e r e s t s

Movies

Tangled, Frozen, Aladdin, Guardians of the Galaxy, Iron Man, The Amazing Spider Man, The Swan Princess.


Anime

Sailor Moon, NANA, Attack On Titan, Love Live!, Pandora Hearts, Inuyasha, Fairy Tail, Sword Art Online, Soul Eater, Idolm@ster, Magi, and Panty and Stocking.


Video Games

Kingdom Hearts, Final Fantasy (X, X-2, V, XIII, XIII-2), Xenosaga, Pokemon, Dynasty Warriors, Disgaea, Tales of (Symphonia, The Abyss, Graces and Legendia), Legend of Zelda, Animal Crossin: New Life, Mario Kart, Smash Brothers, and Super Mario World.


Random

Glaceon, Light blue and Purple, Cats, Red Pandas, Musicals, Cherry Blossoms, Raspberries, Hello Kitty, Panic! At The Disco, Legwarmers, Korean Dramas, Oversized sweaters, Fall Out Boy, Harley Quinn, Starfire, Sailor Jupiter, Ninja Sex Party, WWE, Game grumps, Markiplier, Christmas, Springtime, Diamonds and Pearls.
Friends
Viewing 12 of 382 friends
Journal
Reishii's feelings

Sad. Happy. Lonely. Excited. Loving. These are the emotions I will write about in here.
Multimedia
Signature

⋆G l a c e y o n⋆
The number one Oppai Idoru Purincessu
{ artist/gamer/dork/idol }
art by

Trustings