About
The point in life is not to

ELIMINATE

misery, it's to

minimize

it as much as possible.


This is a custom profile made by me, not the crap you might see at tektek.


So...About me:
~I'm a hellsing fan
~I also do hellsing fanart. Check out my deviantart
here
~I can make custom profile for people who want them (only if I feel like it)
~I have 600K worth of expensive items

~I earn most of my gold by playing cards. I use the tokens I get from the daily chance, turn them into tickets and then sell them. I can break even (win the same amount of tokens as I started with) on normal days. I can double/triple my tokens on good days.
~I find almost everything amusing.
~I have a hellsing guild,
Hellsing\'s letzte bataillon
~I'm partially lazy, just like Hirano! XD
~I still know places where you can still read hellsing online

~I HATE BEGGING! DON'T ASK ME FOR STUFF UNLESS YOU'RE A CLOSE FRIEND.
~I like things centered

Somehing I would like to have: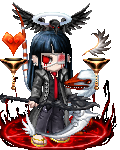 Yes, I would love to be able to cry blood just like Alucard
Care to donate?

Total Value: 359,031 Gold
After Exclusions: 107,034 Gold

Needed:
Oculus Mythica
Oculus Mythica
Gift of the Gods



And finally

FOR THE LAST TIME! I DO

NOT

DO COMMISSIONS! HOW MANY TIMES DO I HAVE TO SAY THIS?! I'M TOO LAZY TO EVEN DRAW MY OWN IDEAS!



Now, listen to my awesome music!

Friends
Viewing 12 of 38 friends
Journal
HELLSING, and because I have nothing better to do
A log of hellsing news and randomness
Multimedia
Signature

I am a hellsing fan/cosplayer. Ask to see work/cosplay.


THE YAOI-NESS OF IT ALL!