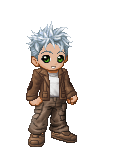 Gender: Male
Occupation: Saving the world
Equipped List
Interest Tags
Favorite Movies/Anime
Favorite Reads
Hobbies/Interests
Wish List
About
Hello everyone,

I was recently introduced to this site by the love of my life, who goes by Little Spooch on here. I have no interest in developing some sort of romantic relationship of any variation on this or any site (so please don't ask). I hope to figure this thing out a bit to further enhance our relationship during times that I am away on business. If you have any questions of me, which i doubt, feel free to ask.
Forums
Posts per Day: 0.00
Total Posts: 1
My Aquarium
Journal
What does GB stand for anyways?
Randomness of the life of Spooch and Panda
My Playlist
You currently have zero playlists!
Signature
Be the Hero of your life story