Gash Thrashum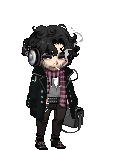 Details
Member Since

09/28/2007
Location

New York City

Occupation

Writer/Editor

Gender

Male
---
Interests
Favorite Movies/Anime
Hobbies/Interests
About
I'm sort of like that new ride you haven't been on at the amusement park; dangerous, fun and unpredictable. I'm the snap, crackle and pop in your breakfast cereal and quite possibly a huge dork for saying that.
I'm mainly into anarcho punk, ska, thrash metal or anything that'll make me bop my head. I'm open to all genres of music including country. I don't care, call the cops on me for enjoying a little twang.
If you want to be friends, make sure to be relatively free of drama; I can only keep up with so much. However, don't be shy about messaging me or leaving a comment.
Here I am giving the death glare to the person who blasted my face with confetti at a punk show. I secretly enjoyed it.
Multimedia