Gash Thrashum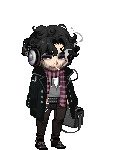 Details
Member Since

09/28/2007
Location

New York City

Occupation

Writer/Editor and Caretaker

Gender

Male
---
Interests
Favorite Movies/Anime
Hobbies/Interests
About
I'm sort of like that new ride you haven't been on at the amusement park: dangerous, fun and unpredictable. I'm the snap, crackle and pop in your breakfast cereal and quite possibly a huge dork for saying all of the above..
I'm mainly into anarcho punk, ska, thrash metal or anything that'll make me bop my head. I'm open to all genres of music including country. I don't care, call the cops on me for enjoying a little twang.
If you want to be friends, make sure to be relatively free of drama. However, don't be shy about messaging me or leaving a comment.

Unabashed selfie-taker extraordinaire.
Multimedia