Garfish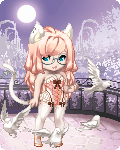 Location: With my beloved
Birthday: 07/20
Occupation: Student & Artist
What I am wearing
If
you could see yourself, just for a day, you would see how everyone else sees you. And my goodness, you are beautiful.




A book I found in a grassy meadow...
...lying there in the middle of the field, I saw a book, this book was covered with moss and little bugs, I took it to my golden bathtub and cleaned it 'til it shined. Now that book is mine.
End Message
Hello ladies and gentlemen.