. . . Me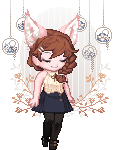 Registered: 08/27/2005
Gender: Female
Birthday: 03/11
. . . So You Know
A LITTLE ABOUT ME


I'm Gabbia, or just call me Gabby. I'm
21 years old, a writer, an artist, and a
fan of roleplaying, of course. Oh, and
I'm female, in case you didn't realize
that.

I don't bite. I like to talk to people,
and I promise I'm nice! I adore food,
animals, books, music, and people-watching.
I have PCOS and thyroid problems, so I'm sick
a lot. I'm a grammar freak sometimes.
I have a full-time job.
Also, I'm engaged and happy as could be!