fvckery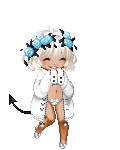 Location: Wonderland
Birthday: 05/26

uh, hi. the name's alex ヾ(´▽`)ゝ
i'm a twenty years old scottish idiot
currently studying a double major in uni.

i enjoy mangas, listening to music, and eating candy
i also roleplay when i have the chance to do so.
if you ever want to talk about everything and anything
under the sun, or want me to do a 1 x 1 with you,
just shoot me a pm, and we'll talk about it, k?

muh face.


Wish List