About
RABI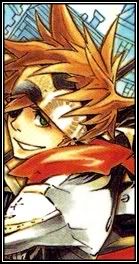 Name
: Rabi, Lavi, Ravi, or Labi.

REAL Name
: It's Rabi (or the others above) now.
Age
: 18, just like Yuu!
Ethnicity/Nationality
: ... I'm just a mongrel.

Height
: 177cm.
Weight
: 68kg.
Hair
: Red.
Eye(s)
: Green.
DOB
: August 10th, 1879! How'd I get to 2007..?
Astrological Sign
: Leo.
Blood Type
: O
Quote
:
For a man, home is where the heart is!
(I don't see what's so corny about that, Allen! You're just too young to understand!)
Occupation
: I am
going to be
a Bookman! And I'm an Exorcist as well.
Anti-Akuma Weapon
: Oudzuchi Kodzuchi, my hammer. Equipment-type.

It has the ability to extend and grow, as well, it holds and releases my seals for me! It's also a great way to travel.

Best friend?
: Well, I have a lot of friends! I can't just pick one.. but I think I like Yuu best.

He's so fun to tease.

And Tag/Doug. I miss him.. a lot.
Taken?
: Uhh.. Well..
Your type?
: My type? As in what? Girls? Oh, I like girls! Not just certain girls either~ I'll take them from ages 15 to 40! Gotta keep my options open, eh?
Pretty ones especially.

Yuu seems to think it's dumb of me to have such a wide range. Hnn..
Feel free to send a friend request or random PM, or even a comment on my profile/journal! I need to learn about the people in the 21st century.. it helps!

-----
INTRO
Well, hey there!
My name is Rabi! That's it! No other name! Just Rabi! Or Lavi.. or Ravi. Or Labi.. uh.. Whichever you want to call me.

I'm going to be a future bookman! What's a bookman? Well, we record all parts of history's secrets that aren't written down and pass it on to other bookmen so they can-- OW!!!
Sorry.. old man Panda hit me again.

OMG, A QUEST!
Anyway, hey! Y'know what I love? I love scarves.

They're so warm and comfy..
There sure are a lot of them in this world..
Hey! I got an idea! I'm gonna collect them all! :'D Anyone want to help me? I'd love to complete my scarf collection.

I really want the Angelic Scarf..
It's so white and pretty.. that's the one I want the most.


Thank you to
Kazeai
for the new eyepatch! ♥ The old one was getting.. old. >:
ABOUT THE PROFILE LAYOUT
The creator of this account made the profile.. well, I did, I guess.
I MADE TYKIS TOO
It took a couple of hours..

;; But I like how it came out.
But yes.. this is a custom-made profile.

Though I got the coding for it from some site called "tektek.org".
Ano..?
Wow, a lot of people like my layout..

Thanks guys!

It's nice to know that it's lookin' good.. I put quite a bit of work into it.

As for requests, I
might
start taking them, but I can't at the moment due to offline life, and once I make some of my other accounts and their layouts, I can see what I can do.

Maybe I can make some gold from this..? Hm..
Friends
Viewing 12 of 50 friends
Journal
Recordings of a Bookman..
In a new town.. what should I write down?
While I venture into this new town.. I'm going to record just about everything I see! Panda is always telling me to keep my eyes out for stuff.
Multimedia