Funk_Durgison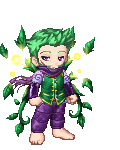 Last Login: 09/19/2016 12:26 am
Registered: 12/17/2008
Gender: Male
Location: Dartmouth, Massachusetts
Birthday: 03/20/1993
Occupation: Cook
Equipped List
A very little about me
Favorite Movies/Anime
Favorite TV Shows
Favorite Reads
Favorite Music/Bands
Hobbies/Interests
About
Hello everyone, my name's Dylan. I'm a 23 year old male, who works as a full-time cook.

If you're curious about me, and would like to know anything else; feel free to ask (within reason of course).
Signature
If I can think of anything to place here I'll let you know.