Equipped List
No items equipped.
Interest Tags
Favorite Movies/Anime
Favorite TV Shows
Favorite Reads
Favorite Music/Bands
Hobbies/Interests
Wish List
About
Hey My name is Melody. My passion is Music.

I live by this: Music = Life

Sushi Rocks!!!!

The Power Rangers are the best!

Pokemon... Do you have to ask?
It's awesome!

I don't care if I spell things wrong. It is part of my individuality!
fruitpunchcentral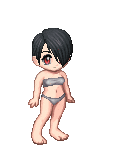 Last Login: 11/11/2009 2:43 pm
Birthday: 12/21