FrozenFate08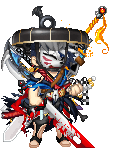 About

My profile is still under construction.
Feel free to look around

Here's a summary about myself.
-I'm 20 years old.
-I'm a straight male.
-I'm from the Philippines.
-I'm taking a course on BS Computer Engineering.
-I hate math.
-I love anime.
-I'm a gamer.
-I love gifts.
-I love cute things.
Friends
Viewing 12 of 60 friends
Multimedia
Signature


Art by Sehlat
I love the anons

Thank you!

20/Male/Philippines

My Quest Thread
Questing all sword items: 7.9bil / I CAN'T EVEN
Current Quest:

- 7.9 bil / LMP