Freya Sirad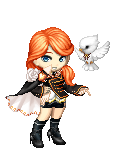 Last Login: 09/22/2015 10:18 am
Registered: 01/28/2007
Gender: Female
Interest Tags
Hobbies/Interests
Make the list smaller, please. D:
My Playlist
You currently have zero playlists!
About
Who are you?
Someone who's doesn't have much of a life to come up with a character living in the Gaian universe (and takes ideas from other places such as Perfect World International). I'm just making claims that I'm not entirely original. I like my imagination and I don't really make sense. (btw, this is under construction right now. so i'll update this as soon as i don't feel lazy) >____>
Journal
Freya's archive
Freya's thoughts about her so-called average life in the Gaia world.
Signature
-Formerly OneForgottenSoul-