About
iamdez Wrote:
Thou art Fredwise.
Fred Weasley. Samwise Gamgee.
You are their love-child, I assume.
BEAUTIFUL!!


I like any music with guitars in, Harry Potter (a lot. If you want a chat about that - then just pm me or add me on msn), Lord of the Rings (not as much, but anyway!)

What else? What I don't like:
I hate reality TV shows - Big Brother, Pop Idol, X Factor - I just hate the lot.
I'm normally very random, so bear with me please!

Alien Contact!!! - Love you 09!!!




The Doctor Who Guild is where I regularly visit. And we do get this competitive...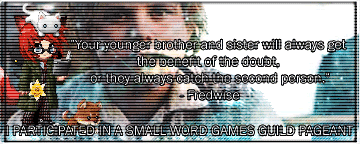 From Aiden_Wolfspirit!




Had to put this in! It used to be in my sig, but not any more...

If you want to donate an item in my wishlist, go ahead. Thanks to Piporge who donated! Thank you Kn0x! And to loads of others! I love you all!!!!!

100th Comment - Halo Jones!
200th Comment - Bachteria

Anyway, despite questing for stuff, I do check my friends' wishlists often, and if I see something I can afford, I buy it and donate. So watch out for random gifts!




Me as an Avi. By Piporge of course!


My little Menagerie...


KiKi is called Pippin
CoCo is called Muffin
Yeti is called Cookie
Mochi is called Russell
Gwee is called Rich


I'm not still strangely obsessed by Pokemon!!
Friends
Viewing 12 of 72 friends
Journal
Fredwise's diary - Danger of Bat Bogeys if read!
Just about anything i feel like...
Multimedia
Signature
"If liberty is the summit, equality is the base."