Hold the S because I am an AINT
I love the dark side of life but I'm also really girly XD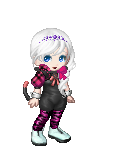 Birthday: 06/26
Equipped List
Interest Tags
Favorite Movies/Anime
Favorite TV Shows
Favorite Reads
Favorite Music/Bands
Hobbies/Interests
Wish List
About
Only really use this site for the diary as an anonymous way of venting about working in care, play a couple of the games to pass the time and I think its really cute.
I work with adults with challenging behaviours, autism and learning difficulties, any questions, advise you'd like or even have for me is more than welcome.
I may also post art and drawings on here from time to time and see what you guys think.

My Aquarium
Journal
Care
I work in a care home for people with learning difficulties and autism and I would just like an anonymous space to share some of the experiences I have had.
Signature