About

And while I can still get in there(since I changed the password), I decided to switch over to this account, just to be safe. So all my stuff that was in my other account is now over here.

So, what do I do with my time on Gaia? I mostly just post in random threads, do the Daily Chance, and randomly comment people when I'm bored. So if you get a "Random Comment!" from me, there's no need to freak out and panic with the thought that I may stalk you. I'm just b-o-r-e-d and want to make some gold. :domo:
Anyways, here's some facts about me:
My name is Kat
I love Anime/Manga and Video Games
I cosplay and go to Anime conventions
I'm a die-hard Glambert, and super proud of it.

I love yaoi
I'm a strong supporter of gay rights and gay marriage
Tom Felton makes me smile
I prefer MyChonny over Nigahiga on Youtube, but love both
I've been with the same guy for almost two years, now, and love him so much
Chocolate is my favorite kind of candy
Purple, Blue, Pink, Black, and Green are the best colors to me
People mistake me for being 14-15 when I'm really 20
Friends
Viewing 12 of 122 friends
Journal
My Stuff
This is my journal. :) Enjoy reading it!
Multimedia
Signature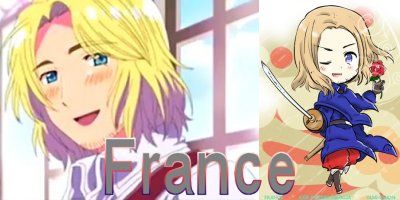 Bonjour, je m'appelle Francis~
(RP account~! :'D)