Forest Of Green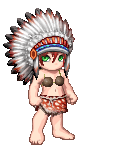 Birthday: 01/11/1936
Occupation: Trade School
About

Chick.
Lesbian.
19. Almost 20?
California.
I smoke cigarettes.
I've forgotten what illegal things are.
I love women.
I'm single 4ever.
Hi my name's, Kris.

Walking down the Boulevard, sitting on a walk. I see only shades upon shades of chalk.

Each step, each crack, another dent in life of those I've just stepped over.

"I say ******** Life! Love Everything that comes your way. ******** those who oppose your views and accept those who love."

Window by window, a reflection of each path that's crossed it. Another life that will cease to walk past it again.

A single picture with a thousand words waiting to be shout out by a thousand voices, waiting to be screamed by a thousand people, waiting to be heard by a thousand ears.

Many faces in life that have walked a crack, that've noticed a thousand different shades and who have gazed into the open window and saw only themselves. At last we scream ******** It! ******** Life! And All those who oppose it and love all who love in return.