HOSHIT! It's Bagel.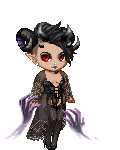 Last Login: 12/25/2014 8:57 pm
Registered: 12/01/2004
Gender: Female
Location: Lexington, Kentucky
Birthday: 08/15/1990
Occupation: Freelance audio engineer
The Bagel's Signature
Guess who's back, back again?
Bagel's back, tell a friend.
And then run and hide in your various places of residence.

I respond to 'Bagel'.

On a neverending quest for everything on my wishlist.

Currently: Tzili, Demon secretary of the Underworld.