FlipperDesert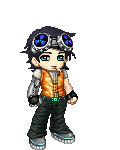 Last Login: 02/19/2015 3:22 pm
Registered: 01/30/2006
Gender: Male
Location: Dunstable, England.
Birthday: 01/06
Equipped List
Interest Tags
Favorite Movies/Anime
Favorite TV Shows
Favorite Reads
Favorite Music/Bands
Hobbies/Interests
Wish List
About
I'm a cyborg sent from the future to change the past to in turn change the future. It's all very complicated.
Signature
I should think of something new to put here.