FlatteredPawn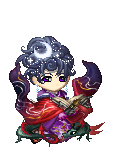 Last Login: 12/11/2014 9:17 pm
Registered: 01/31/2007
Gender: Female
Equipped List
Interest Tags
Favorite Movies/Anime
Favorite TV Shows
Favorite Reads
Favorite Music/Bands
Hobbies/Interests
Wish List
Signature
About
I'm a simple person, not looking for anything in particular on Gaia. It's a good place to spend your time being bored.

Things you should know about me:

1) I dislike illiterate people, if you fall under this catergory you'll be bathing in my disdain.
2) I can be moody, I am human, I apologize if you cross my path when I'm not at my best.
3) I like questions, I like conversations, I am approachable so don't fear me - I'm just like you.