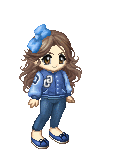 Birthday: 08/17
y u wanna no wat im wearing? PERVE!
Interest Tags
Remind me to update my interests.
Wish List
wanna learn about me? read on!
Hewwo!

my name is Destiny T. Jones, and I'm kinda new on gaia.
i have 4 dogs, and I love to cheerlead!(u probably could hav noticed that!) pm me if u want to learn more!
Signature
~~~~~~lol~~~~~~~

guy drowning...hehehehehe