Links
http://www.mindistortion.tv/pocketemo/?
data=2-2-6-3-0-1-1-0-1&name=USB
Signature
Collecting flowers (NOT sunflowers), bugs, ink and trash.

A little help?
Firlodge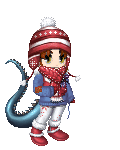 Last Login: 10/02/2012 7:46 am
Registered: 05/22/2007
Gender: Female
Birthday: 11/05/1990
Occupation: College Student
Guilds
Interest Tags
Favorite TV Shows
Favorite Reads
Hobbies/Interests
Glossary of words Firlodge uses that aren't real words.
'happened' in the story: Meaning it happened in the story in my head, I just haven't got around to typing it out yet.

A snick: When people run their nails down your back but not hard enough to hurt you, esp. done in a loving way.

I want rants!
Then go to my journal
Journal
The ramblings from the lodge
I'll just use it as a public diary.
About
Hey, I tend to get obsessed with stuff. I'm a bookworm.

I'm obsessed with Genetics, particularly unusual types of twins.

In case anyone's interested, my birthday is November the 5th. I was born in 1990. Work out my age from there.


Story titles
'The adventures of' series:

1.http://www.gaiaonline.com/forum/original-stories-prose/the-adventures-of-ma-rr-iss-aloue-ale-sus-azne-con-crit/t.33133425/
2.http://www.gaiaonline.com/forum/original-stories-prose/the-adventures-of-dominus-mortus-sequel-to-mar-thing-s-ones/t.34847533/
3.http://www.gaiaonline.com/forum/original-stories-prose/the-adventures-of-farcus-bubblelips-sequel-to-dm-s-ones/t.35119183/