About
Sayounara Zetsbou Sensei
Bokusatsu Tenshi Dokuro-Chan
DBZ
School Days
Gravitation
Girl's High
Abenobashi Magical Shopping Arcade
Slayers
Slayers Next
Slayers Try
Fruits Basket
Pretear
Lucky Star
Umineko No Naku Koro Ni
Higurashi No Naku Koro Ni
Higurashi No Naku Koro Ni Kai
Higurashi No Naku Koro Ni Rei
Nana
Blue Seed
Aishiteruze Baby
FLCL
Dirty pair Flash (NOT a HENTAI!)
Peach Girl
Magikano
Tenchi Muyo
Tenchi Universe
Nerima Daikon Brothers
Cowboy Bebop
Ouran High School Host Club
Azumanga Daioh
Puchi Puri Yuuchi
Elven Lied
Outlaw Star
Toradora!
Gakuen Mokushiroku: High School Of The Dead
Junjo Romantica
Mitsudomoe
Mitsudomoe Zouryouchuu! [YAY!!! Season 2!!!!]
Lovely Complex
Samurai Champloo
Kyouran Kazoku Nikki
Ore No Imouto Ga Konna Ni Kawaii Wake Ga Nai
Kuragehime [Ongoing]
Soredemo Machi Wa Mawatteiru
*Kore Wa Zombie Desuka?
Hourou Musuko [*thumbs down*]
*Beelzebub
*Ao No Exorcist
*A Channel
*Dororon Enma-kun: Meeramera
*Astarotte No Omocha!
*MM!
*Denpa Onna To Seishun Otoko
30-sai No Hoken Taiiku [Finished recently]
*Nichijou
*Sekai-ichi Hatsukoi
Panty and Stocking with Garterbelt
*Yuru Yuri
Usagi Drop
Mirai Nikki
Death Note
-- This is one of my favorite images. It was taken outside on campus (Jan. 16th) during an out of the blue snowday. Now before that I hadn't seen actual factual snow since 2001, so this was really something to enjoy. I went out in it with my friends Mike and Chayney (T-mike Kurosaki and Spydervenom). We enjoyed ourselves that day! Chayney got this whacky idea to stomp out his name in the snow's edge, and like the follower I am, I went right along with it too. Actually if you look, you will see that the feet there aren't of normal womens' size. That is because it was Cheyney who did this for me. I am not too graceful, nor too balanced to go through and do it, but he did... thanks Spyder!
[IMAGE OF ME PENDING]
The name is Filia slayer, but the government calls me Dominique! I am 26-years-old, and am STILL a proud (though infrequent) user of Go-gaia/Gaiaonline.com!
I have many passions in my life. There's music, running (hoping to run my first 5k next September), shopping, roleplaying, traveling, making friends, aaaaaand the occasional partying with some of my best buds in the world!...I also draw, though I'm not SUPER good at it or anything.
*NEW* I am on a weight loss journey and am so far down about a hundred pounds give or take. My main goal s to become healthier overall, but my second little ultimatum is to be able to wear cute clothes and finally feel a little more confident in my skin.
WLG: 145
CW: 170-180 (gives or takes. I stopped weighing myself on the scale)
SW: 278
If an of you are members on MFP (myfitnesspal) and would like to have another friend, feel free to add me! My name is CannibalisticVegetarian [No spaces]
ON Gaia, I am a lover of fishing as well as spending time with my beloved Gaia children. I'm known as 'MAMA' to my youngin's, and will defend both them and all of my friends to the death if need be... err though I'm not much for quarreling. It IS gaia after all.
Want to be my pal? Drop me a line any time, loves. Just don't beg me. As an old head from the year of 2003, I believe in questing for what you want. 'Nuff said!
Anyways, on with the captions and artwork!
[Caption's section]

(This is one of my first captions... not to mention my favorite... Oh, and for you SMART people out there, Asphyxiation means to suffocate or cut off oxygen in any way)
-------------------

(Me and my friends actually dressed our avis that way and finally I made it quite apparent that we three looked like pixelated prostitutes.)
----------------------

(This is one that I made for my bro and his gf)
-------------------------

Dont ask... I just felt like it... I lost humor out of the other ones.
--------------------------

I was pretty bored and decided to play around with the comics.. its been a while since I've made one of these.
--------------------------

I titled this one "Racism or pixelism?"
--------------------------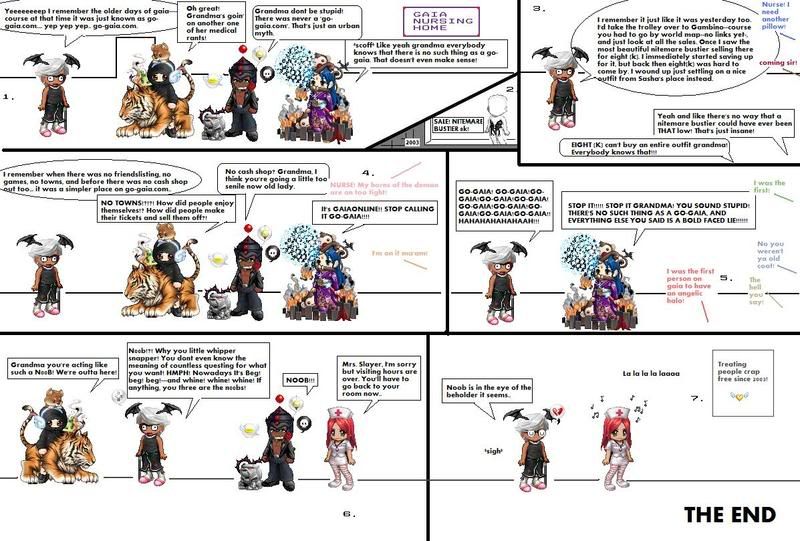 This one is known as "OLD LADY GAIA". It isn't very funny, but features an avi (mines of course since I spend my time doing this for my own pleasure) being visited in a nursing home by her snobby spoiled grandkids. She attempts to explain the old days of gaia to them, but they could care less. They practically dont believe a word she says, and often accuses her of being senile. She is in fact telling the truth, but since they are a 2007/2008 bunch, they dont expect there to have been that much change in only such a little while. One part that I do like about this comic though is how I put the nitemare bustier (2003) scene in black and white. It is supposed to seem like one of those 'old days' flashbacks, like how we see in the pictures and movies from the 1920's. She is supposed to be ancient, remember? Well she flashbacks in an almost "black and white", and this represents her back 'in the good old days'.
-------------------------
[After having someone suggest that I make another comic, I decided to take the challenge and make the magic happen. This one may be a little hard to understand, but it's actually an incident that I faced (and still do). So I bought a cute little doll thinking that the price would skyrocket like many of the others I've seen in the mp, and sure enough it did. The thing is, dolls are incredibly hard to sell....INCREDIBLY. True that my doll fluctuates between 300k and 500k, but no one will buy it. I've even been so desperate enough to sell it for nearly 30k off the value mp price and had even left it in the mp for about a week or two...only to have my sale expire. stuck with this doll.. kay serrah serrah.
-------------------------

[Attack of the posers! MWAHAHAHAHAHAHAHAHAH!!!]
--------------------------
Avi art and My own art!
Avi art done by Jaded mystery <3
--------------------------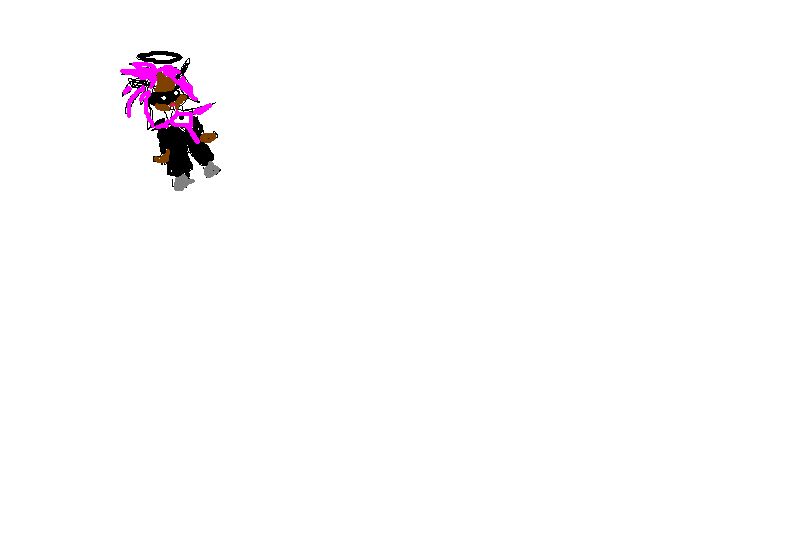 Avi art done by Charlemagne Hildebrandte <3
--------------------------
I haven't had avi art done in so long---and this is actually the first time someone who isn't a friend of mines irl has done artwork for me! I just LOVE it!! Oh Thank you, Drowning Within Insanity! My daughter is hella talented!
------------------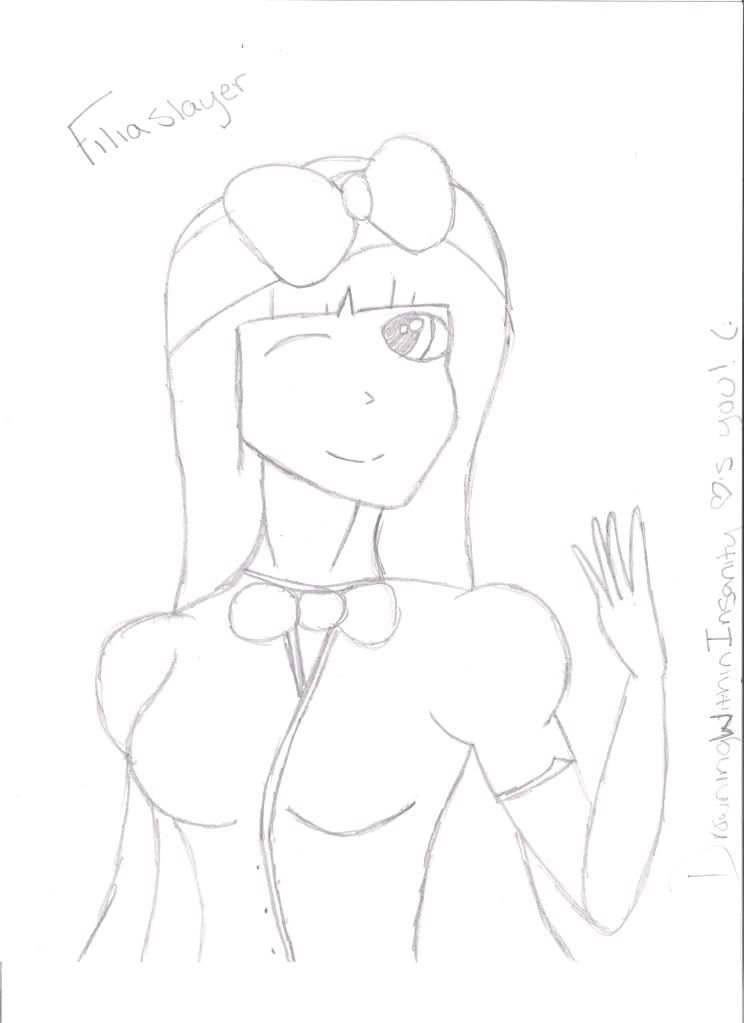 More avi art made by my Gaia-daughter, Drowning Within Insanity. <33
----------------
[Just me and Kuressa... I swear, he never EVER smiles.]
---------------
[Just me and my alt sisters.]
----------------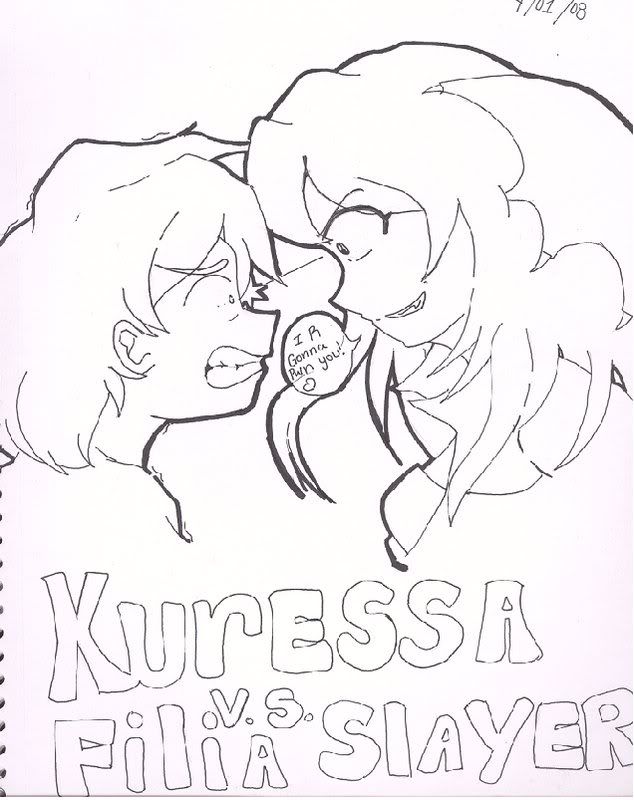 [Kuressa and Filia again. I drew it sort of as a way to pass the time in class. Sorry if my handwriting is a bit bunched. Filia is actually telling Kuressa that, "I R Gonna PWN you!" And followed with a loving little heart. Awwww. She just wuvs her Kuressa cake!]
-----------------------
[ALT sisterhood part 2.]
-----------------------
[Filia and Momijii...]
-----------------------
[Recognize her? Probably not. Maybe one person around here would know my FURCADIA character, Jessica Bell. This was the rough drafted version before I went in and corrected the tail hole. Just thought I would slap this one up there too.]
---------------------
[I did this one for my other gaian son TOTAL, and Tected (Protected)]
---------------------------------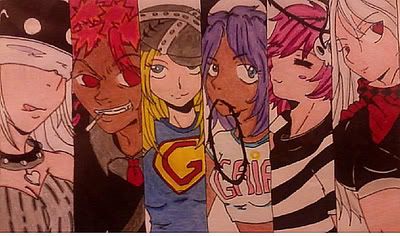 [This one is one of my absolute favorites for a number of reasons. It may not look it from the weird angle taken by my cell phone, but the lines are so perfect. The real picture looks a bit better than this one, but snapping a picture of it with my cell phone is damn near impossible. In any case, here we have a closeup of my Gaian family (myself included). From the left you have [Unprotected Socks], [Abducted Chocolate], [Ugh Katie], [Filia Slayer], [Saints Flow], and finally, [Drowning within Insanity]. All of my Gaian kids and I together.]
------------------------------
[A little something that I did for my Gaian son (Saint Row)'s birthday. Again, all the gaian kids and Filia slayer are depicted, and this time there's also Auntie Momijii_Awakened.]

DONATORS

I usually dont authorize this, but someone always surprises me..thank you..



mathew amras shinato
Legion_Sojen
Cynical ace
Geminai_Mist
Jaded Mystery
Tibbs enough said
T-Mike Kurosaki
Delta drag
xMelvalorx
yUm chiKen_StriPs yUm
Shadow Archangel
xXI_Bite_BackXx
Kowai Chwibi
xSkyDropsDeadx
Whiskey-Chan

------------------------------------------------
*NEW* My captions section!
Basically this is just random mess thrown in there. It is of pictures taken in towns and rallys---two of my frequent spots. Some are of stuff to random to pass up, and others are just of me being silly.
--I dressed down, took one of those cheap Naruto umbrellas, and went all around town begging people to buy my umbrella. Sad, aint it?
-----------------------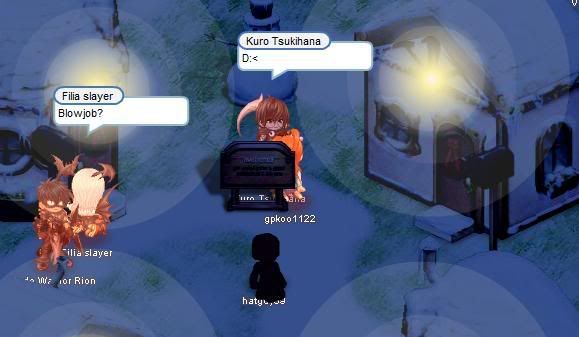 ---People get so freaky in towns, dont they?
-----------------------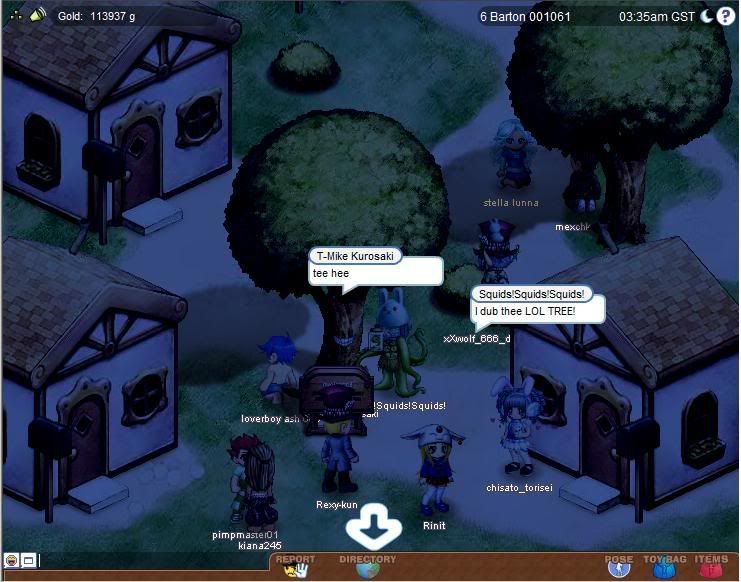 ------Funny. I saw a mouth wandering around towns, and so I tried annoying [boredom]. Basically, it turned out to actually have been a friend of mines who got on towns just for something to do... and from then on we spent the entire time being weird and in turn freaking people out. This was a little something he and I came up with called, "LOL Tree"... boy does that tree look happy.
------------------------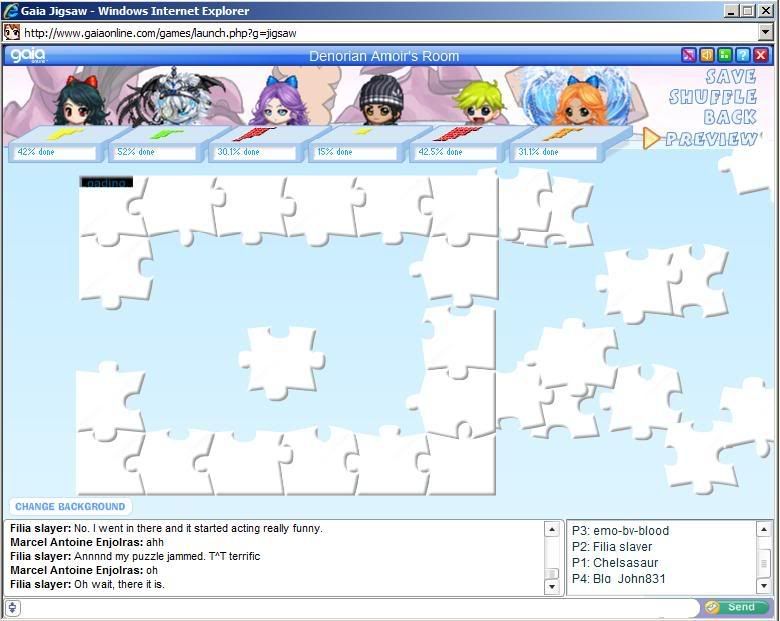 [I call this one, "White supremacist puzzle!"... It was actually a glitch caused while I was playing Jigsaws. Somehow it turned my easy 30 piece puzzle into a uncommonly difficult one. I still finished of course, but I feel that the puzzle may have been discriminating against me.... but maybe that is just paranoia setting in... <<;...........;>>]
-------------------------
[Look up in the corner of the page. See me? Well that isn't important. What IS important is that I got the person on my profile like they wanted! How do ya like DEM apples, Flappers?!]
-------------------------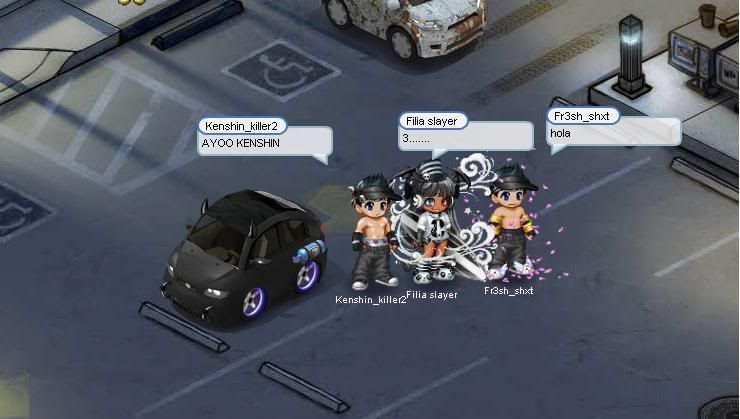 Upon special request, I snapped a picture of myself. Fr3sh, and my gaian son, Kenshin. I guess yelling '3' during picture taking is the new 'CHEEESE!'
--------------------------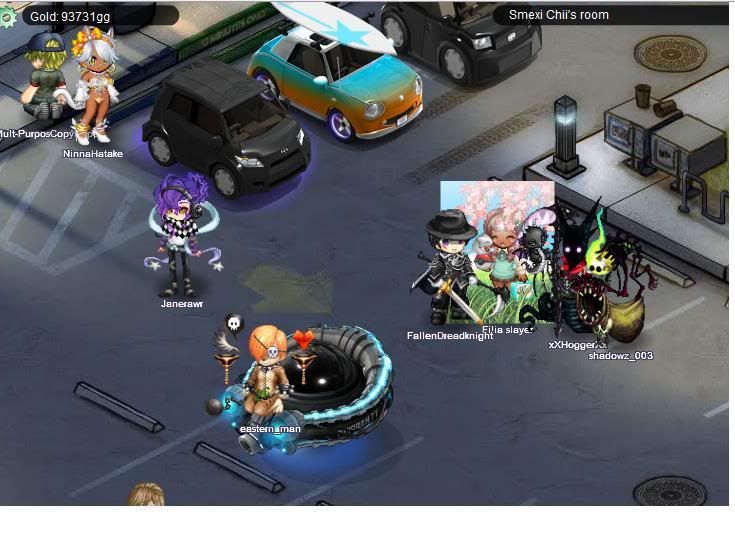 Some of the coolest gaian folk I have ever met...EVAR!!!!!
Friends
Viewing 12 of 327 friends
Journal
Filia slayer's Journal
Profile #1
Profiles and such
Multimedia
Signature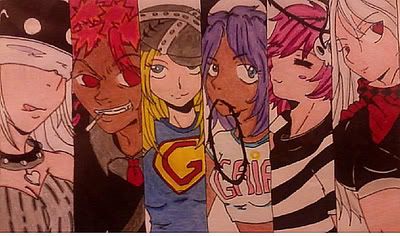 [My artwork. My Gaian family:heart:]