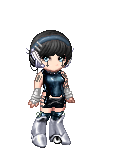 Last Login: 12/11/2013 5:40 pm
Registered: 08/16/2005
Gender: Female
Location: Not just anywhere.
Birthday: 07/05
Occupation: Cybo-Maid
Equipped List
Interest Tags
Favorite Movies/Anime
Favorite TV Shows
Favorite Reads
Favorite Music/Bands
Hobbies/Interests
Wish List
About
I'm a maid. And also a cyborg.

That's about it, for now.
Signature
RP? PM!
Just be literate. Please, god, I beg of you, I'm dying for an actual story here.
Not named after the hat.