Fea Line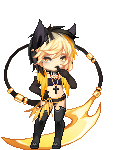 Details
Last Login

01/30/2015 9:03 pm

Total Posts

118657

Posts Per Day

34.48

Member Since

08/29/2005
Location

Somewhere Over the rainbow...

Gender

Female

Website
---
Interests
Favorite Movies/Anime
Favorite TV Shows
About
Im ADDICTEDZ to WoW!
85 Balance Druid ~ Lunarkin in [Keepers of Lite] on Gilneas.

BOOMKIN

You WILL call me Moon//Moonie//Luna//Lunamoonie//Moonieluna or you know just Fea. xD;
Fea Line stands for - yes - Feline.
Welcome to the profile of the awesomeness of awesome of Fea.

Fea is a 25 year old college student.
She hopes to major in Creative writing and minor in Drawing.
Fea is ADDICTED to icons - if you cant tell
Well a little bit about the Fea.
She has:
7 cats
2 bearded dragons
2 leopard geckos
1 parakeets
20 turtles
And a pond with some fish.
She loves Animals, and used to have a lot more then that - but she wont bore you with the list.
vv Somethings Fea likes|dislikes vv
-------------------------
Things The Fea Likes:
Cats
Roleplaying
Animals
Severus Snape
Lucius Malfoy
Bellatrix Lestrange
Countless other people listed in Avatars on her profile
Drawing
Sleeping
Computers
MMORPG's (Massive Multiplayer Online Role Playing Games)
Dragons
Shinney things
Racecars
Toothpicks
AVATAR ART!!
Things The Fea Hates:
Non Literacy
People who just dont try
Having to tell someone the same thing twice or more
Whinney people - Though the Fea whinnes herself

When her computer is broken
People who steal her turtles - its happened before
People who are mean to animals
People who are just mean
And being bored
----------------------
vv Here are some icons - I told you, Fea is obessed vv


~!Snape, Lucius, and Bella!~



<3 Anime! E>


Friends
Viewing 12 of 155 friends
Journal
.:: Randomness of the Fea ::.
.::Stuff::.
.::Basicaly, as the title says::.
Multimedia