Equipped List
Interest Tags
Favorite Movies/Anime
Favorite TV Shows
Favorite Reads
Favorite Music/Bands
Hobbies/Interests
Wish List
Forums
Posts per Day: 2.65
Total Posts: 8793
My Playlist
You currently have zero playlists!
FallenAngelJunisu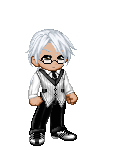 Last Login: 12/09/2013 7:49 am
Registered: 11/05/2004
Gender: Male
Location: California
Birthday: 11/04/1987
Occupation: web artist/ animator
About
I dont know half of you as well as i should like, and I like less than half of you half as well as you deserve
My Aquarium
Journal
why bother
why bother?
Signature
My Deviant Arts Page

Yes I drew all those pictures. No they were not free hand. I used various pictures from both comics and the internet. If you want me to post the references say so instead of making stupid remarks. Thank you and good day.