Fallen Angel Lucifer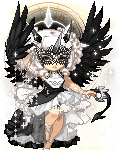 About
Hello, Lovelies. If you're reading this I assume you'd like to get to know me a little more. Don't worry. I won't bite...too hard. <3
Let's start off with the basics shall we?
"Getting to know you,
Getting to know all about you.
Getting to like you,
Getting to hope you like me."
My name is Fallen Angel Lucifer.
However, since my username is rather long, I'll pretty much answer to any shortened version of if. The most common being Fallen, Lucifer or FAL.
I am a Female.
How old am I? My my my, you Naughty Imp. Never ask a lady's age! How rude. But if you positively MUST know, I'm in my early 20s.
My current main occupation is serving as the ruler of Hell, but I've been looking to broaden my horizons and have taken up living as a college student. Truly a tedious affair.
Favorite Colors: Blue, Purple, Red, Black, Silver, Gold
I admit it's been a very long time since this portion of my profile has seen any sort of update. I'll be working on it when I have a little more time.
:heart:My Likes:

Music is a major part of my life. I love listening to various styles of music. I'm willing to listen to anything really, but my favorite genre is rock. From classic rock to symphonic gothic rock and heavy metal. I love it all.

Some of my favorite bands are:
~Skillet
~Breaking Benjamin
~Within Temptation
~Nightwish
~Evanescence
~Bullet for My Valentine
~Linkin' Park
~Journey

I've also developed a fondness for dubstep music recently. I love listening to Skrillex and Chrispy along with several other artists, much to the grief of my family. <3

*I could keep listing bands, but that would take up far too much space.
If you ever want to talk about your favorite musicians feel free to look me up.
I'm always willing to listen to new songs.
I also play several musical instruments.

When I was a child, my mother insisted that I learn to play the piano, and it is one of my favorite hobbies. I'll play anything from oldies to contemporary pop songs. I love learning to play music from video games, anime, movies.

I took guitar lessons for a year or so and then I began teaching myself to play. I own both an acoustic and electric guitar. Unfortunately, I think I'm a bit out of practice at the moment. XD

During my junior and senior years of high school, I began taking violin lessons with one of the nuns at the school's convent. I'm still a beginner level player, but I love playing music by Andrew Lloyd Webber and songs from the Lord of the rings Soundtrack. Pretty proud of the fact that I can now play the love theme from the Godfather movie, Speak Softly Love. <3

Last but not least, I've been in band ever since the fifth grade. I started off playing alto saxophone but quickly changed to playing the tenor sax for marching and concert bands and the bari sax for jazz band. At the moment I'm part of my college marching band so I'll be pretty busy with practice and getting ready to perform field shows at the football games on weekends.

I know there's a ton of band geeks out there. Look me up and we can share of musical experiences. Here. I'll even start.



This one time at band camp....



DDR
Anime/Manga:
~Trinity Blood~
~Hellsing~
~X~Tokyo Babylon~
~Loveless~
Cosplaying: I won an award!

Role-Playing
Video Games:
~Final Fantasy~
~Kingdom Hearts~
~Fatal Frame~
~Resident Evil~
~Harvest Moon~Rune Factory~
~Pokemon~

~Tetris~
~Bioshock~
~Assassin's Creed~
OMG. Leonardo da Vinci is so cool.
My inner history geek is screaming in fangirlish glee.
My Dislikes:
Beggars: NO YOU CAN'T HAVE MY GOLD OR ITEMS!!! DON'T PM ME!




If I choose to donate to you so be it, but please do not spam up my inbox begging me to give you any gold or items. It tends to annoy me and makes me less willing to cooperate.
Flamers/Trolls
Hackers: Get your own items. Don't take mine.
My Gaian Family:
Mad as a Hatter (AKA: Hat-chan): Beloved (Adopted) Sister

King Jareth: Dearest Brother

Ursula (AKA: Hide-mama): Mother! Don't beat me!

I'm sorry!
I'm Currently Questing For:
~Rosa Decora
40k/260k
Price subject to change according to marketplace value.
Updated every 1000 gold.
I tend to forget to update this section so it's probably best just to look at my signature.
As of late I've been obsessed with:
~American Comics: I have rediscovered my love for comic books. Especially my devotion to all things related to Batman and Robin.

Top Favorite Series:
~Batman & Robin
~Red Robin
~Red Hood and the Outlaws
~Nightwing
~Journey Into Mystery
~Young Avengers
If you ever feel like chatting, just send me a PM or drop a profile comment. Don't be shy. I can be rather chatty and friendly once you get to know me. <3

I can usually be found lurking in Art Freebies, Avatar Talk, the entertainment section or in my own quest thread, ~Devilish Desires~. Drop on by and keep me company. Who knows, maybe you''ll inspire me to do some of my own art freebies.



I'm also back to playing zOMG, if we're online at the same time just send me an PM and we can crew up.

~History: I love reading or talking about history. What can you expect? It's my major. I also enjoy various series inspired by history. (e.g. Axis Powers Hetalia, Assassin's Creed)
Man. College has my butt completely whipped. I haven't been online in what feels like years. There are so many new things out. I kinda feel like a newbie all over again.
Well. That's all for now folks! Swing by later and you never know, and may have gotten off my butt and updated again. See you around and feel free to leave a comment or message. I love geeking out with people who share common interests.
Multimedia