failedfetus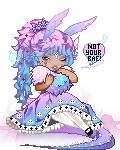 Details
Last Login

07/07/2016 8:28 pm

Member Since

12/17/2009
Gender

Female

Birthday

11/19

Website
---
Interests
About
I'm not much of a person to talk about, considering the problems I have. Unless you consider an emphatic person a good one.
I let simple things get to me, yet I laugh at it.

Otherwise, I'm a basic person to talk to.
Details for you weirdos~
Gender: Female
Age: 19
Weight: 120 pounds.
Height: 5"6'
Why?: No idea.

I prefer white and black items with fluff. <3
Friends
Viewing 11 of 11 friends
Journal
Nopeton
Possibly filled with my rants or other things. Likely rants.
Signature
Ask for my Tumblr, since it's NSFW.
Questing: THE Bride, Between Sea and Sky, Seven Honest Kisses, and Death Speaker
~
Kik:
offical_lovelypet ~
Discord:
failedfetus #5279 ~
Feel free to call me a loser, I'm used to it.
My Face...