About
I am FaerieWhngs the Great! And welcome to my page!
I am a cosplayer, role-player, and artist.
I love people and chatting with pretty much everyone, so please drop me a note or comment, or anything!
Anyways, I love Jesus and I am currently going to college to be an English or Art teacher.
Yah, that's about it.
Thanks for dropping by! <3
My Dream Avatar! <3

Friends
Viewing 12 of 14 friends
Journal
Ranting of a Teenager....
Rants of course!
Multimedia
Signature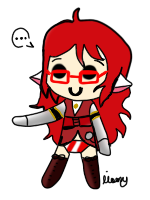 Art by the Lovely iLoony Lovegood! <3