About
/ / INTRODUCTION > >
'Sup. Name's Riordan. Quartz, Anubis, Executive, Executive Anubis, whatever floats your boat.
I'm a fairly innocent college kid, 19 years old. Devoted Christian. Musician. Gamer. Blunt, honest. Friendly. Generally very cheery but I've got a rage monster if you poke my buttons.
I'm just devoted to doing the best I can for this world while still enjoying myself. I'm not awesome enough to go out and do missionary work and stuff like that, but I try to do my absolute best for my friends and family. To be kind to all those around me, striving to be a living example of Christ's love and tolerance. Of course, as a human, I slip up a fair amount. But that's okay. Just keep trying.
/ / THE GLORY OF GOD > >
Sometimes I get stressed out at stuff; but I will always remember how blessed I am by God. Atheists can say whatever they want, and I can't disprove them, and they can't disprove me, but it is clear through everything I see in the world, and by how completely lucky and blessed I am, that there must be God. God is very good to me though; too good. I don't deserve all that he endlessly pours out to me. The worst He does is send me through trials to mature me ... it's overall a very satisfying experience, in the end. That's nothing compared to what others must endure.
/ / MY LIKES AND MY LOVES > >
Less about my personality, and more about my likes... I love God for too many reasons to count. I have a very wide taste in music; I can find enjoyment in pretty close to any genre, though I favor stuff full of riffs with unique vocalists, and while I like electronic/techno music, I tend to dislike vocal effects. I enjoy video games, particularly online games. I vary on which I play most a lot, although Left 4 Dead is certainly a favorite. I'm a great writer, and I dunno what I'm supposed to do with that; it's kind of impossible to be a successful author. I've been investigating music, a lot. So far I've been rigorously chasing becoming a good vocalist, and I think I'm getting pretty good at that. I know piano for the music theory but don't like playing it very much, and I've been playing guitar a lot. Electrics FTW! Despite being a vocalist first and foremost, I consider myself pretty bad at writing lyrics, but very good at making catchy guitar riffs.
I love joking around and making people laugh, nothing makes me more happy than making people smile. I love my friends and family. My sister is
Zphal
, and my mom is
engineer-of-doom
.
My life is pretty crazy right now trying to figure out what I can do with it. I
want
to be a singer, actor, or a writer of some sort; but with all of those, it is extremely difficult to break into the business.
/ / PICTURES > >

Because screw shirts.
Me and Ryan (Senior Ditch Day!)

Me and Zach (we were wrestling just prior to this image, I had him on the ropes

)
Me and Aaron (at Tahoe. Yes I am holding the bear's boob)
Me and Josh (livin' in a gangsta's paradise)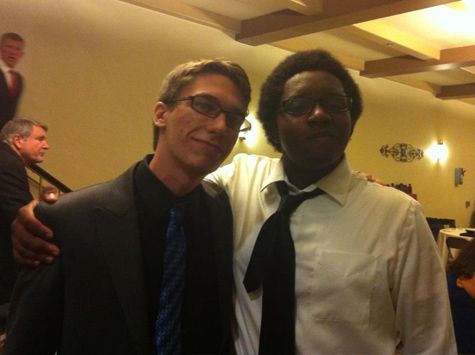 Me and Donavin (Prom 2013, yes I double-dipped in Prom as an alumnus)
Me, Justin, Andrew (Prom 2013 aww yiss)

oh hay
EXECUTIVE ANUBIS
< < CONTACT ME ! ! > >
YouTube
,
Twitter
,
deviantART
, AIM, YIM,
Steam
,
Xbox Live
, etc.: quartzlcc
E-mail: quartzlcc@yahoo.com
Everywhere else: Quartz, Quartzy, Quartz LCC,
Original Gaia Account:
Angelic Light Blue
(Join date 11/04/2004)
I currently play:
bitFighter
. My profile on the forums is
here
.
(Come join this game. It's free and has a small, loving community.)
Baldur\'s Gate
. My profile on the forums is
here
.