ewokluver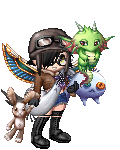 Last Login: 09/23/2010 3:32 pm
Registered: 02/21/2006
Gender: Female
Location: Tampa, Florida
Interests
Favorite Movies/Anime
Favorite TV Shows
Favorite Reads
Favorite Music/Bands
Hobbies/Interests
Journal
There is a method to my madness, or at least I hope so.
Random things I feel like posting when I'm bored, upset, or hyper.
Forums
Posts per Day: 0.09
Total Posts: 358
About
Hello! Um, let's see........
My real name is Sarah, and I have many interests.
I play the violin, I am on my schools soccer team, and I am in "smart" classes.
I love all kinds of rock, classical and alternative mostly. I can stand some country, r&b, and rap, but not alot.
I'm about 5'3, short light brown hair, and Hazel eyes.
Star Wars=The s**t! And the bests sports movie ever was Remeber the Titans. I like Anime and Manga, but I'm not a Japanophile or anything.
I love all of Miyazaki's movies, but I've only seen a couple, which is subject to change.
I'm not really into video games, mostly 'cause I don't know how to play them.
I am the middle child of 2 brothers, and my parents are divorced.
At the moment I only have one dog, but I am in the process of preparing myself to beg my dad to let us have another cat.(He doesn't want anymore animals).
I am 16 and currently single. I have a learners permit, and won't get my license until this upcoming september because I am a lazy procrastinator.
I am also a Christian, don't ask what kind bc I am not entirely sure myself.
I am a sophomore, and right now I can't think of anything else to add. Pm if you want to talk!