Ryuu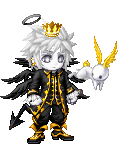 Last Login: 01/15/2017 7:40 pm
Registered: 07/28/2008
Gender: Male
Location: In my Head
Birthday: 12/13
Occupation: Man-Servent of Tabby
About
Well, well. Here we are, one last time huh? Its been fun ride hasn't it? Made a lot of memories here, but all things must come to an end. Lately, I've been growing tired of the internet as a whole and the reason to return here dwindle even now. Think I'm going to take my leave,
I don't know if I'll ever be back if at all
.
I just wanted to say, thank you. Thank you for being great friends. You were more family to many than my own family. I'll never forget the friends I've made here and I hope that one day we'll meet and have a great laugh about it all.
I have no idea why you're here, but for whatever reason thanks for stopping by. Leave a comment, just to say hello. I don't know when I'll see it, but it'll be nice to be thought of. I hope all of you have wonderful, rich lives. None of you will remember me by the time your old and dying, just don't forget that there was always someone in your life who made it better. That person may not have been me, but anywone. An old friend, a new lover, a pet if you will. Enjoy life best you can before its gone.
Later guys.
drAMatIC tWIt.
B1tch3s a1n't noth1ng, but ho3s and tr1cks.