Your Eternal Dictator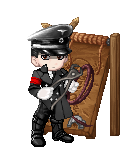 Last Login: 05/24/2015 2:18 pm
Registered: 01/01/2007
Gender: Male
Location: Nova Scotia, Canada
Birthday: 10/16/1989
Stuff I'm Wearin'
Stuff I Want - GIMME!!!
My Gaia Res.
Personal Stuff
Favorite Movies/Anime
Favorite TV Shows
Favorite Reads
Favorite Music/Bands
Hobbies/Interests
Journal
Into the Mind of the Beholder
Warning: Wandering into this journal will cause the reader to be exposed to the inside of my dark and unstable mind. I hold no responsibility for any permanent insanity brought on by viewing my journal.
Stuff About Me
Remember. People who ask repeatedly for donations get NOTHING!!!

I don't do random friend requests. If you want to add me as a friend, PM me first and we'll have a little chat. Until then I won't accept you.

Now that's over...

Well about me, my name is Matt, I'm 22 and I like music. I also play piano. I write poetry and short stories and would also like to publicly perform, however I have very bad stage fright. I am currently working on a French major in university. If you want to know my hobbies and interests, view the lists.
My Litte Siggy
My deviantART profile: http://princeoffire.deviantart.com/