About
If you're looking for me, try finding someone as
pleasantly ridiculous
as I.
Kold Wrote:
Apakoh is an interesting dragoness. She's..well...I can't describe her without calling her sexy. I'm happily married, but I acknowledge that about her. She's pretty cool.
Journal
Apakoh Drache's Diary.
A diary of where I go, and what I do as I explore this strange new world.
Signature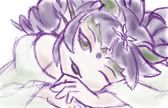 Luv Me?
I am Yami\'s Rasai Trial.