Emily_Neverland13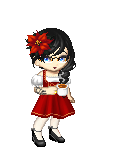 Last Login: 07/27/2016 1:20 pm
Gender: Female
Birthday: 07/30
Equipped List
Interest Tags
Favorite Movies/Anime
Favorite TV Shows
Favorite Reads
Favorite Music/Bands
Hobbies/Interests
Wish List
About
I'm interested in Role playing and gaming. I'm an avid writer and own three role playing guilds. I love to draw the characters I create and don't mind drawing others' as well. I also knit in my spare time.
Journal
Custom Ink Display
Amiko's Custom Ink shop, all pictures, animations and other commissions end up here.
Signature


Click the image to get to my Nuzlocke guild!



Avatar Animations for Sale!