Elusive Imouto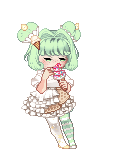 Details
Last Login

04/24/2015 10:57 pm
Gender

Female

Birthday

12/26
---
Interests
Favorite Movies/Anime
About
~I'm an anime/manga freak. Which would make me an Otaku right? (≖‿≖。✿)
~ I'm 22 years young
~I'm sorta shy at first meeting
~I love the color Lavender
~I'm sort of a tomboy
~I'm a cat person
~I am a Pegisister ♥
~I tend to cosplay
~I enjoy many different styles of music
~I love anything that has chocolate in it
~I like games. <though im not that much of a gamer>
~I like to be hyper
~I don't get upset easily
~I enjoy many fandoms
~I'm honest, kind, eccentric, and a protective friend
~I love Gaia <who doesn't?, i mean honestly>.
~There is alot more to me, but you'll just have to pm me and ask c:
__________________________________
Favorite Saying:
REMEMBER WHEN
getting HIGH meant swinging at a playground?
the worst thing you could get from a boy was COOTIES?
MOM was your hero
and DAD was the boy you were gonna marry?
when your W0RST ENEMIES were your siblings
and RACE ISSUES were about who ran fastest?
when WAR was a card game
and life was SIMPLE and CAREFREE?
remember when all you wanted to do
WAS GROW UP?
Put This In Your Profile If You're Still Five Inside... No Matter How Old You Are Now.
_________________________________
Women are like teabags, you never know how strong
they are until you put them in hot water
Friends
Viewing 12 of 456 friends
Journal
Halloween Avatar
Trade!
Ciel needs some items, Ciel will trade, or just offer Ciel some less pricey items, either will do. ^ - ^