Eliza Rain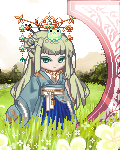 Details
Member Since

05/07/2005
Location

In the deep darkness of the world

Occupation

Economy Student

Gender

Female

Birthday

01/08

Website
---
Interests
Favorite Movies/Anime
Favorite TV Shows
Favorite Reads
Favorite Music/Bands
Hobbies/Interests
About
"Angel sin alas, genuina locura. Leal mentirosa reflejada en simpatia."
I'm a great fan of Visual Kei music. I love all about Hizaki, Gackt, Miyavi, and other artists.

Music is my drug.

It seems I need a new profile theme. My old picture host died, so, until I get more time, I'll be using this one.



Another things you

must

know about me:



Gender:

female


Age:

I born in 1989, make the maths.


Status:

Already taken, since 02/12/11 by this guy.

(Can you belive it?)


Sexual Orientation

Heterosexual.


Activities:

Read, sing, write, study, anime
Actually I'm studying Economics at U.N.A.M.

Despite how my avi may looks,
this is I in the Real World.
Friends
Viewing 12 of 181 friends
Journal
雨の日々
The gentle rain still not stopping, the soaked people and town nevertheless, believe in the sun...
Signature
[url=http://site-not-allowed/3zBczp]

[/url]


I miss you dad. (14/IX/57-8/VII/12)


Taken since 02/XII/11 by

Maximilianodh

.



Draw [url=http://site-not-allowed/Xfa8JM]me[/url], and I'll give you my eternal

love

.

(Clic on the pic to see my art gallery)