About
Rant:


I welcome every one who care to look upon the humble about me rant and stuff.

Games I am currently into:

I am a very big MONSTER HUNTER now. I have been strung up on the PSP with it that is now takes up my sleep. Just like people who Play WOW for the first time I am, I have become hopelessly addicted to the game. The weapons and monsters and the game format for the PSP is a lot better then the PS2 version that was launched first.

There has been a lot of expanding on money portions and the village in general. In the older one you had to just hunt and hope that you could afford your next improvement on a weapon by next week and the monsters were uncannily hard but the PSP virsion has more monsters, a farm ((I am big into that)) and a training area and you can take it with you!

Truly I love the game and look forward to the PC advancement of MONSTER HUNTER: FONTEIR Coming out to America in no doubt short time.




To the rant already!

I have been busy with school and all that jazz...
That and playing videogames which Is close to taking a good chunk of my free time and sleep but It brings my levels of stress down

I am a nice guy but sometimes I am a air head and Of coarse I am al sometimes very forgetful....Age will do that I guess lol! School is school but you cant succeed without it or that's what people have been pounding into my brain.

I am big into comic books, books with some appeal or just hanging out but drawing is a big hobby of mine!

I also have an awsome girlfriend who for me at least is the shake when I bake....I know weird but hey that's me. I gatta say she is wonderful!

Well I am tired so if you see me give me a yell.
-Peace

About the man behind Elijah Snow: ok I am very into self improving my self. I work out a good portion of my week, practice on my Kung-fu from time to time. When ever I am not training I am reading or working on my drawings or something. I like to socialize ((hence some people call me a pain in the a** for fun)).



My old saying: Talk softly and carry a big stick.....

Comic:

((In progress))

-peace to all ((Monday,August 13 2007))
Poem: My mood for the day
Too depressed
To get out of bed and get dressed
I suggest
When you talk to me you give is a rest
I am not in the mood
To start another feud
Which in the end we'll both get screwed
So if people think I am crude
If I am being too shrewd
Just get in my mind
Stress, relationships and work entwined
There is no time to unwind
So many excuses to combined

But the thing now at this time
Is go to my room, listen to sublime
I get my feeling lost in their rhyme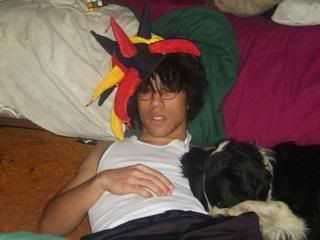 ----updated
Friends
Viewing 12 of 21 friends
Journal
Elijah_Snow's Journal
I don't care.
Multimedia
Signature
"Speak softly and carry a big stick" -Roosevelt-