About
Hi there. I'm ElegantlyLuminous but, please, call me Lumi. The username is from a fit of adolescent superiority and, frankly, I've grown so used to it that I just can't bear to change it even if it no longer fits me.

Hm. What else? I'm a frequent visitor in the achievements forum, despite that I already have most of the existing achievements (excluding those from events). It's fun to help out. I'm currently working on my alchemy achievements and taking my time doing so. The wing quest isn't going anywhere. (Especially given how low my alchemy level is right now.) I like Lake Kindred. Sure, it gets boring… but it's an easy way to earn gold. You can find me in that forum sometimes. Although I'm currently not writing (I got tired of the lack of communication between partners and the random abandonment), I do love to roleplay. Avatar design is fun, too.

In real life, I'm in my early twenties. I'm currently working in a dismal, minimal wage retail job where I'm underutilized and bored out of my mind. It pays the bills. But, really, it means that I left a master's program in counseling psychology after deciding that while I love it, I couldn't see myself doing it for the whole of my life. So I'm looking into full-time jobs, considering re-entering a different kind of master's program. (Maybe in library sciences?) Basically: I'm taking a step back. It's taking far longer than I'd like.

Hobby-wise, I love to read. Talk to me about books. Books are good. Baking is fun, too. I'm now in the process of teaching myself to make homemade bread. Mm. Sometimes I sew sock animals. I've recently gotten back into watching TV after years of not doing so. Scorpion is a particular favorite, although I've also been watching a lot of superhero shows lately as well.

Basically: I'm pretty average, albeit with an absurd fondness for dragons and weird words. (Ferhoodle is an awesome word, by the way.) Feel free to reach out for a random conversation! And if you need help with achievements, let me know. I'm always happy to drop by and help.

Art by auralife:


Art by rawr ari:



Graphic by Zaerys:



Art by l k i t n i n j a l:



Art by Nu Mikitakazo Nshi:


Multimedia
Signature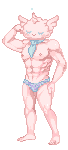 Bara Fluff would like you to visit The Kingdom of Kindred.

Updating an abandoned guide- item suggestions appreciated!