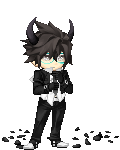 Yo! Welcome to my profile. Feel free to P.M.
You can call me Eli or Elecue, you can pronounce it however you want it to sound like. I am younger than 21. Have fun guessing my age!
I enjoy to play guitar and watch anime. Usually on-going anime like One Piece.

Love rock music, my favorite genre's are Grunge, Indie Rock, Alternative.


Nothing special about me, just like to talk to people on Gaia. I love gaming, I have an Xbox so if you have an Xbox send me your username!
Thanks for coming! c:



.
[