EIfy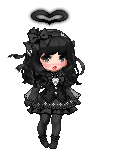 Last Login: 09/17/2014 7:34 am
Registered: 10/17/2003
Gender: Female
Location: Australia
About

Hi I'm Elf, I live in Australia. Been on gaia since 2003. As you can see I have some sort of gaia addiction.

My good friends here are awesome people.

Keep working hard to get where you want to be.

Art on this profile is credited to the various artists who drew them. Art is only for my usage and the artist who drew said artwork.