About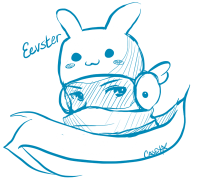 My biggest Booty Grab = 2184 = 6552 gold
~~~~~~~~~~~~~~~~~~~~~~~~~~~~~~~~~~~~~~~~~
The best thing someone ever told me was this:
Your friendship is the best gift I could ever hope for or imagine.
One doesn't meet someone like you every day or even once a year, very often.
You're kind, generous and you actually put up with my novels. WOW!
Which the lamest.yet only word I could spew out of my brain at the moment -.-
Thank you for all you have done, but the gift isn't necessary.
You have done A LOT as it is.
Have a great weekend and know when you look up at the stars that you have a friend looking at those same stars, whispering you hellos and sending you the warmest smiles ever. (and hugs as well)
You're not crazy, if you are then I'm completely insane xD
and ever since... I've never let her go! <3
~~~~~~~~~~~~~~~~~~~~~~~~~~~~~~~~~~~~~~~~~
Friends
Viewing 12 of 20 friends
Multimedia
Signature
The Grand Bazaar
buys inks, papers, flowers, fishes and zOMG! items @ Great prices !