eclectic iconoclast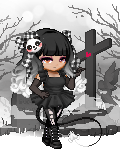 Details
Member Since

01/23/2006
Location

Austin, Tx

Gender

Female

Birthday

11/07/1988
---
Interests
Favorite Movies/Anime
Favorite TV Shows
Favorite Reads
Favorite Music/Bands
About
I am a mother of two very precious little girls. Their names are Layla Marie, and Audrey Faye. They come before Gaia any day. I have been here since 2005, but forgot my email and pw, so started fresh in 2006 with this account which has been through 3 different names now. You may know me by lilipadster, xX QuEeN oF ShArPiE Xx, or my alt account xX AwKwArD LiLsTeR Xx. If there is anything else you would like to know, please, don't hesitate to ask. I'm open to chat, and what not. Peace!
Friends
Viewing 12 of 69 friends
Journal
-ThE PoOp DeCk-
www.myspace.com/lillie_marie_bernal
funn!
Multimedia
Signature
[img:8cfbf41105]http://i682.photobucket.com/albums/vv185/GNTM_hostess/Retroedit086.jpg[/img:8cfbf41105]