Eclairsu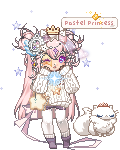 About



L u m
a c h
a i

⋆
Featured Avatar
⋆
S u z i e
♀
|
Lv 26
|
♏
|
Married
|
Mommy

●
●
●
●
●
●
●

⋆
Nile's Little Mermaid
⋆
Whimsical Gamer
⋆
⋆
Coffee Addict
⋆
Cosmic Nymph
⋆
Feminist Siren
⋆
⋆
Aquatic, Sweets, Galaxy, & Spooky Obsessed
⋆
⋆
Snowpaya & I
⋆
⋆
Our Daughter
⋆
( Updated 04.19.2016. )


{
Childish
◦
Introvert
◦
Reclusive
◦
Playful
}
Agnostic
♥
Demisexual
★
Feminist
♥
ISTJ
l o v e s
⋆
My Hubby Nile.

My Daughter Kyra. My Doggies, Yuna & Rikku.
The Little Mermaid. Aquatic / Spooky. Baking. Iced Chai Tea Lattes. Swimming.
Video Games. Pink. Starbucks. Halloween / Christmas. Sleeping. Count Chocula.

h a t e s
⋆
Stalkers. Copiers. Most People in General.
Unfaithful Couples. Spiders. Materialistic Girls. Slutty Girls. Selfies.
"Unique / Original" Girls. Sexists. Extremists. Taylor Swift. Conceited Bitches.


⋆
My hubby
Nile
& I have been together since
12.29.2005.
We've been married since
12.16.2010.
We welcomed our first child, Kyra,
12.27.2014.
⋆

Journal
✧ Crystallized Princess
Multimedia
Signature


Princess



Eclairsu