About
I see that you've managed to find your way to my profile. Well, congrats! Oh, this is where I write all about myself, yeah? Well, my name is Phaedra, but call me Phezz or Echo. Seriously. I'm 22 and I live in New Mexico on the southern side of the United States (For those of you who don't know). No, I'm not Mexican, and no, I'm not from Mexico. And yes, New Mexico IS a state, thank you. I'm not racist or anything, but I do get sick of people asking me if I speak english. My husband is the most important person in my life. He's my everything.

I'm an english freak, and I refuse to join any role plays that aren't literate or advanced literate. Seriously, who can play off of *walks into a bar and sits down*? No one. Anyway, onto my personality.....

I'm a very friendly and outgoing person, and I love to make new friends. My friends and family are my life. Mess with them, you mess with me. I'm up-front about my emotions and thoughts, and if that makes me seem like a b***h, go ahead and call me one. Names and Cliques don't phase me. I'm part everything and I love being so social. My mom is my BEST friend, and if you cut her down, I'll cut you UP. I'm in drama and a drama kid at heart and extremely hyperactive. I love school, but hate the classes. Don't bring me your stupid drama. I'll be a shoulder to cry on or a counselor if you need one, but I do NOT associate myself with drama unless it's about acting. I come off as a scary goth/punk kid, but really, I'm a giant teddy bear that understands more than you'll ever know. I've had a rough life and I manage to stay happy. I love to talk about anything. I don't mind talking about my past. That's why it's called that. It's not the present. I love my dad with everything I am. He hasn't been there for me much, but he's showing that he's willing to fight for me, and I love that in him. He's shown me that I can trust men again. DON'T screw that up. I'm quite the potty-mouth, but I DO respect my elders and don't cuss in front of them. I'm extremely moral and I love to live by karma. One good deed a day is my quota. It'll raise soon. No matter how much I tell you on here, you'll never know all of me unless you've lived my life. Any questions? Don't be afraid to ask.
I love to model for my best friend. Yes, this is really me.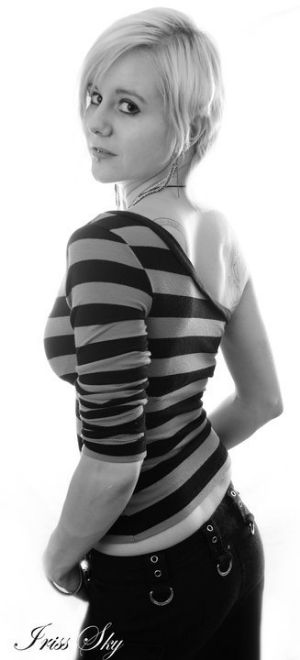 Things I Enjoy
Music
Friends
Weight Training
Aerobics
Meeting new people
My life
My pets
My style
Concerts
Food
Talking
Sleeping
Being the "relationship doctor"
Being a woman
Ice Cream
Starbucks
Cigarettes
CANDY!!!!
Random Conversations
Random nicknames that people tend to give me
Random nicknames that I tend to give people
Annoying my little sister
Icons
Harry Potter
Pirates Of The Caribbean
Lord Of The Rings
Movies
The colors green, purple, blue and red
Talking to my cat
Writing
Music
Modeling


My Husband
Things That ANNOY
Fake people
Hillary Duff
The feeling of being alone
My random emo moments
YOU
Rude people
Mariah Carey
Hillary Duff(Yes, I know I already said her name...)
Being away from my husband for too long
People who inflict pain on themselves
Not having my morning cigarette
Stupid High School Drama
Paris Hilton
Kanye West
Yea, so there's this one guy, right? And he's pretty much everything to me. He stole my heart, so I stole his last name. I'm VERY proud to call myself Mrs. Nathan Joseph.
You

call

me

"Cracker"

,

"Honkey"

,

"Whitey"

,

"Gringo"

and it's OK, but when

I

call

you

k**e

,

"Sand n****r"

,

"Rag Head"

,

"Towelhead"

,

"WOP"

,

"Camel Jockey"

,

"Gook"

,

"n****r"

,

"Slant Eyes"

or

"c***k"

you call me a

racist

.
-You say that

whites

commit a lot of violence against you, so why are the

ghettos

the most

dangerous

places to live?
-You have the

United Negro College Fund


-You have

Martin Luther King Day


-You have

Black History Month


-You have

Cesar Chavez Day


-You have

Yom Hashoah


-You have

Ma'uled Al-Nabi


-You have the

NAACP


-You have [

BET


-If we had

WET

(white entertainment television), we'd be

racist

.
-If we had a

White Pride Day

, we'd be

racist

.
-If we had

White Hstory Month

, we'd be

racist

.
-If we had an organization for only

whites

to advance our lives, we'd be

racist

.
-If we had a college fund that only gave

white students

scholarships, you

know

we'd be racist.
-In the Million Man March, you believed that you were marching for your

race

and

rights

. If

we

marched for

our

race and rights, we'd be

racist

.
-Did you know that some high school students decided to make a club for only the

white

students because the other ethnicities had them? They all got sent to court for being

racist

, but the

African-American

,

Latino

, AND

Asian

clubs were not even

questioned

?
-

You

are

proud

to be

black

,

brown

,

yellow

and

orange

, and you're

not

afraid to announce it. But when

we

announce our

white

pride, you call us

racist

.
I

am

white

.
I

am

proud

.
But,

you

call [

me

a

racist

.
Why is it that only

whites

can be

racists

?
Friends
Viewing 12 of 54 friends
Journal
The Life And Times Of Me, Myself And I
Random musing and poems that I have either aquired or written myself within the past decade. They're all mostly out of order from the time that they were written, but that doesn't matter much.
Multimedia
Signature
QUOTE ME!



"When you cant walk, you crawl. And when you can't crawl -when you can't do that anymore, you find someone to carry you"
"Im a leaf on the wind. Watch how I soar"
"The chain of command is the chain I get and beat you with to show you who's in command"
"May have been the losing side. Still not convinced it was the wrong one"
"If your hand touches metal, I swear by my pretty floral bonnet: I will end you"