Duskeh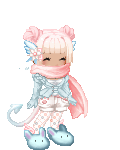 About
I've been on Gaia since 2004, and previously I was a Forum Assistant and Moderator in training. Nowadays I've just come back, and frequent the Gaia Community Discussion, Life Issues and Gaming Discussion forums.
I work for a games developer who have an office in Ireland, and in my spare time I play games constantly! You can usually find me in FPS, RPG or sometimes MMO games. I currently play FFXIV as a miqo'te white mage called Sirantha Swift on Odin (EU). I also collect Pokemon merchandise, specifically Eevee and Charmander-line items. <3
As I said, geeky! I'm pretty easy to get along with, so feel free to PM me or leave me a comment!
Multimedia
Signature


Draw my FFXIV or Skyrim character? Click above!
Art by the lovely

Yosh the Panda

~
« gaming blog · gaming stream · twitter »