Drugs n Kisses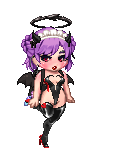 Details
Last Login

04/22/2014 2:46 pm

Member Since

05/05/2007
Location

Dublin, Ireland.

Occupation

Pole dancer.

Gender

Animal

Birthday

10/05
---
Interests
Favorite Movies/Anime
Favorite TV Shows
Favorite Reads
Favorite Music/Bands
About
My name is Liz. I'm a riddle, wrapped inside an enigma, wrapped inside a taco. Bestfriends forever if you caught that.
We are all the same, except a different diagnosis of normal.
So don't be afraid of a little conversation. I like intelligent people.
& you don't need a degree to prove anything. Surprise me.


I crave love like theirs.


The person typing.
Multimedia
Signature