Friends-list wiped
I am property and mate to Lord of Crimson Desire. He is a dream-sickle that only I am permitted to lick and slobber over. He is really amazing and though he will say otherwise he is. So there is that tidbit...Also I want to do perverse things to his unmentionables.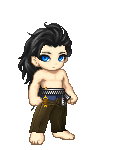 Look at all this. Look at all that sexy.
I could spam this with hearts...I could write all the letters in the world...But I know full and well they wont ever be amicable.
I serve as his butler.
Something for the heartstrings:
"I just want someone who will kiss me when I'm mad and lets me cry in front of them and buys me pizza and watches scary movies with me and holds my hand real tight even if it's sweaty and thinks I'm beautiful no matter what I look like and lets me steal their sweaters so I can sleep with their smell on my skin and who laughs at the same things I do and just never lets me go, no matter how hard I try to push them away." ----Anon.
Crimson, thank you for being that person for me- I am sure you are tired of me yet, but thank you all the same.
Crimson and Blauq =MyOTP

[*Proceeds to circle about Crimson in a oafish manner*]
|